Limestone cliffs adorned with cascading waterfalls, miles of wooden boardwalk suspended over crystal clear turquoise waters and magnificent views over layered forest vegetation is what awaits visitors to Croatia's Plitvice Lakes.
This unique site is a fascinating and breath-taking location filled with natural mystery and surprisingly rich in history.
Here are 9 amazing facts about the Plitvice Lakes.
1. Breath-taking landscapes over 73,000 acres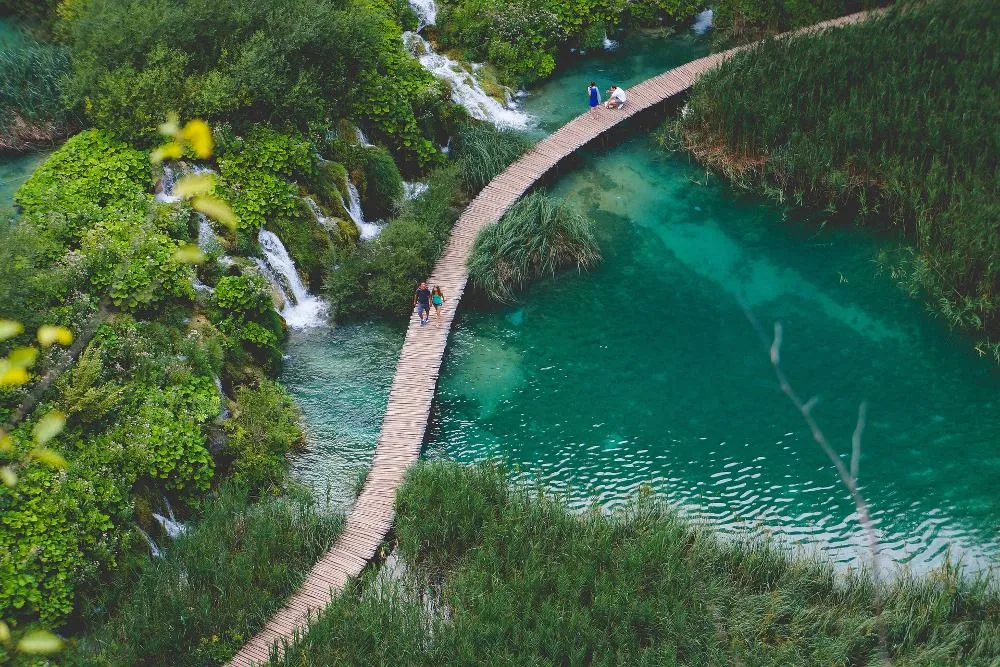 The UNESCO heritage site of Plitvice Lakes National Park boasts 16 main, and several smaller lakes.
Although an exquisite site, lakes occupy only 1% of the park area.
Covering a remarkable 73,000-acre area, with 90 waterfalls and an astounding display of caves, caverns and forest landscapes, the park sees over 1 million visitors each year.
2. Colour-changing lake waters
The expansive lakes are renowned for their extraordinary colours, ranging from crystal clear turquoise shimmers to green, indigo and even darker blues and grey.
Constantly changing water colour is dependent not only on the angle of the sunlight and cloud cover, but also on the quantity of minerals or organisms present in the water.
3. The oldest and largest national park
Plitvice Lakes is the oldest and largest national park in Croatia.
The area was declared the first national park in Croatia in 1949 and has survived the odds of war and construction endeavours, with conservation experts fighting for the natural landscape to remain undisturbed.
The area of ​​the Plitvice Lakes however has been inhabited from prehistoric times with Japods occupying some of the terrain from the 12th to the 1st century BC when they came under Roman rule.
Rich in water, forests and natural shelter made it ideal for rearing animals and livelihood as well as being an important location for controlling the communication route between the continental and Adriatic area.
4. Lake Plitvice activities – more than hiking
With such ​​exceptional biodiversity and varied landscapes it really is no surprise that the Plitvice Lakes are well renowned for magnificent hikes and is paradise to any nature lover.
There are 8 circular routes to choose from, and if you prefer hiking in a quieter environment, and truly submerging yourself into the forest ecosystems, you can choose from 4 slightly narrower hiking trails, mostly on uneven terrain.
However, the park offers a lot more than just walking tours and hikes.
Skiing has been included in the winter tourist offer of Plitvice Lakes National Park with a small ski resort in the village of Mukinje.
Spring and summer are perfect for boat rides on the lakes and keen cyclists can embark on cycling tours through the area.
5. Home to 114 incredible natural caves and pits
Caves and underground systems have been landscaped by limestone which has been eroded producing ridges, sinkholes and also towers.
The park has recorded around 114 sites of caves and other karst features.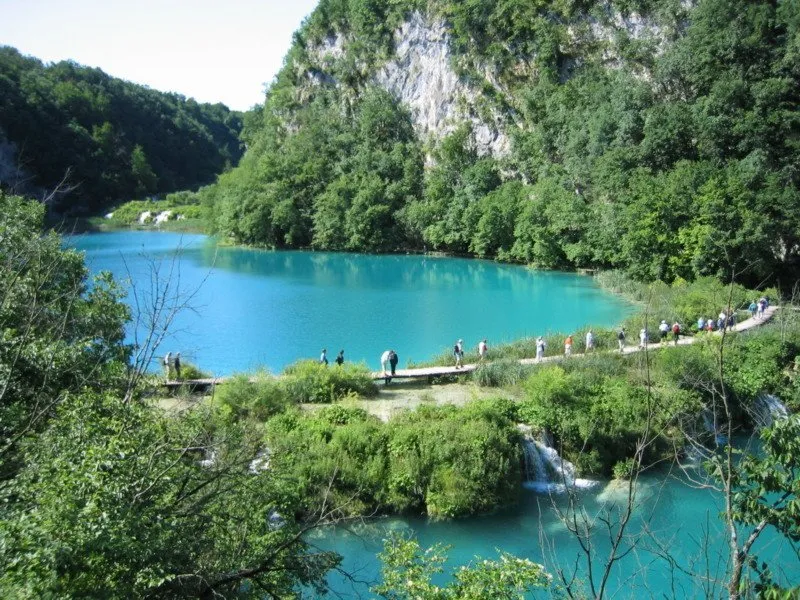 The intriguing Cudinka pit (-203 m) consists of one incredible vertical drop, which has long been one of the deepest in the park.
The Vršić Cave is also quite remarkable at -154 m, and a length of 110 m.
6. Rare and endangered animals abound
Boasting over 259 animal species, the wildlife of Plitvice National Park is diverse and rich.
High conservation priorities have allowed a significant number of rare and endangered species of birds and mammals to thrive here.
Although aquatic habitats are of utmost importance, land creatures range from interesting insects, snakes, beetles and crabs to bears, bats, hedgehogs and wild boar.
The park is also home to large carnivores as the ideal habitat provides quiet and secluded areas, water and shelter.
Wolf, lynx, bear and otter are all natural species to the park, with the lynx known to be critically endangered worldwide.
7. The birds and the… butterflies
The park claims a magnificent 321 species of butterflies and prides itself in being one of the few and best-preserved areas in Croatia for some globally endangered butterfly species.
Bird lovers will certainly find a piece of paradise here with 168 bird species recorded to date including woodpeckers, owls, birds of prey, and gazebos.
Of the total number of recorded breeding birds, 37 are listed as endangered.
The density of the hawk population in the north-western part of the Park is the highest recorded density of this species in Croatia and among the largest in Europe.
8. Cultural and historical heritage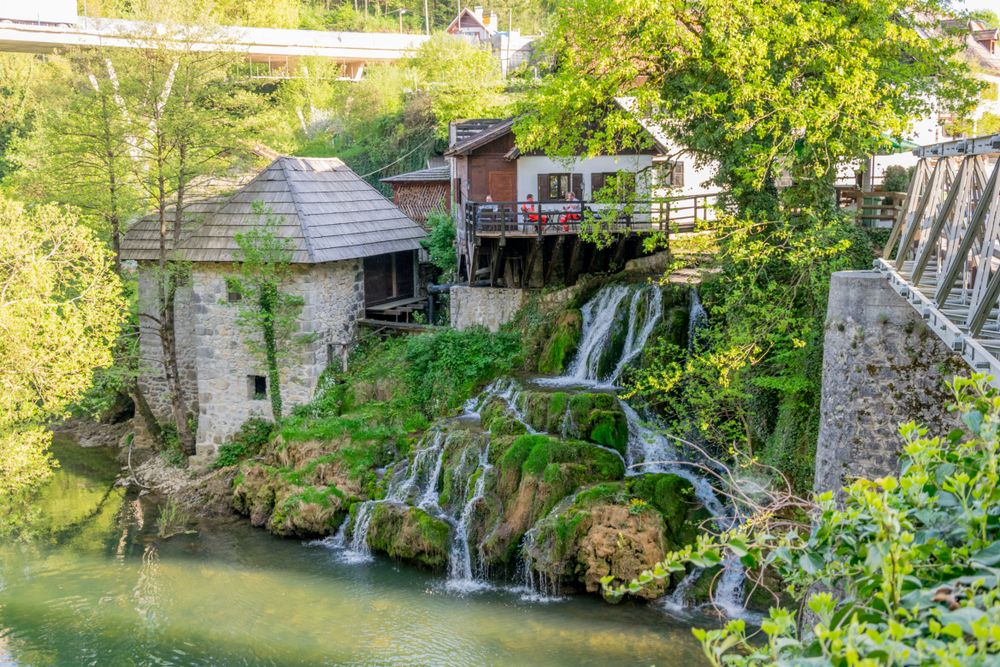 Human settlement in the area dates back centuries, yet despite the large number of archaeological sites, they have not been significantly researched or presented for tourism purposes to date.
Prehistoric hillforts, medieval fortresses and churches were all destroyed by periods of constant warfare, displacement and devastation in the region.
Infrastructure such as the first water supply system, mills, sawmills, small hydro power plants and an inn were also destroyed due to the two world wars.
Conservationists continue to take care in protecting the Plitvice Lakes to the fullest extent from the effects of human activities and modern construction.
Currently in the Plitvice Lakes National Park, there are several villages where examples of traditional construction and lifestyles can be seen.
These villages and many more within the park belong to the protected cultural landscape of the Park.
The locals engage in agriculture and tourism, and it is possible to buy local products such as cheese, brandy, honey and liqueurs here.
9. Home to 30% of the total flora of Croatia

The diverse landscape of the Plitvice Lakes National Park is home to more than 1400 plant species and subspecies.
The park is the only site of the critically endangered species of the Golden Tongue plant worldwide.
It also has the largest known population in Croatia of one of the most endangered and beautiful European orchids, Our Lady's Cypripedium calceolus.
Further the park features over 60 orchid varieties.
In the park visitors may also encounter fascinating carnivorous plants, of which some are also endangered.
It is believed that the Plitvice Lake system was created 12,000 to 15,000 years ago.
With an incredible array of endangered and rare species to see, magnificent water features, lush vegetation and a variety of activities, the area is a must-visit with any trip to Croatia.
Located country-centre, approximately 130 km from the capital city, it is an easy day trip tour from Zagreb or from Split or can be savoured a little longer with a number of overnight options available in the area.