Renowned for its magnificent stretches of coastline, Croatia is the proud home of more than 1000 islands, isles and inlets.
Whether your holiday style includes partying all-night long, tranquillity in nature, a glorious gastronomic tour or adrenaline inducing adventures, there is an island suited just for you.
If you're undecided, take a Croatia island hopping trip with us, and explore culture, history, adventure and crystal coastlines all in one Croatia holiday.
Here is our pick of the best Croatian islands to visit:
Brac Island
More than 80 per cent of Croatia's islands are uninhabited, however, if you're looking for an island worthy of a week's stay, Brac is the place for you.
With its own airport, and only a short ferry trip from Split, Brač is the largest of the central Dalmatian Islands.
Brac is a historically intriguing destination, known for traditions of olive cultivation, its natural white stone export and population of skilled sculptors.
Things to do on Brac
Boasting Croatia's top windsurfing destination and highest mountain on any Adriatic island, it as an adventure-lovers paradise with excellent water-sports facilities, cycling, and hiking trails with spectacular views.
Enjoy gastronomic delights of lamb roasted whole on a spit and see sculptors at work at the Stonemasonry School in Pušišća.
Hvar Island
Known as Croatia's trendiest island, Hvar is the place to enjoy lobster and champagne along cobblestone alley restaurants and shop at designer boutiques.
The sheltered harbour is lined with yachts, whereas the palm-lined seafront promenade, ideal for sunny strolls, looks to the hilltop castle.
Things to do on Hvar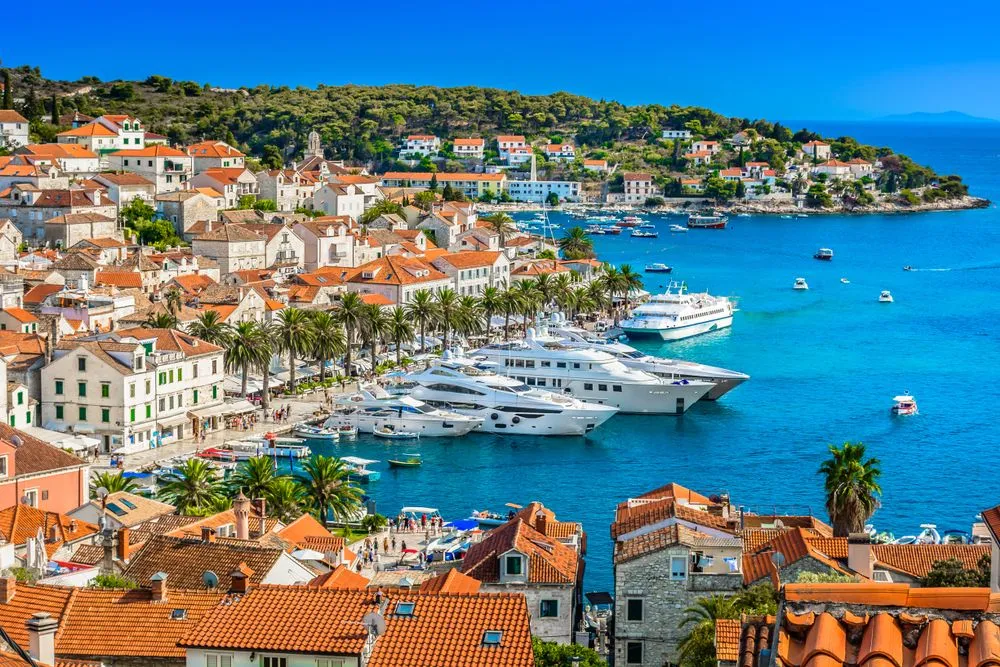 Cathedral, castle and monastery visits reveal a glimpse into the rich history, heritage and culture of the island.
Inland, lavender fields and vineyards await, where guests can taste wine made from local grape varieties.
Seafood, cocktails and plenty of sunshine – you can truly live it up in Hvar.
Krk Island
Joined to the mainland by a striking bridge, Krk is one of Croatia's busiest islands.
The island has a rich and diverse history steeped in eras of Roman and Italian rule.
Its heritage comes to life with sites of Romanesque churches, walled monasteries, vineyards and quaint fishing villages.
Krk is known for its outstanding taverns serving local specialities of handmade pasta, Kvarner shrimps and local wine.
Things to do on Krk
Walk or cycle the farmlands and explore the underground caverns of the Biserujka Cave.
Sample local white wine in the hill village of Vrbnik and soak up the sun at Baška beach.
Pag Island
The thin, yet long rocky desert island of Pag is home to two fishing villages, a bit of cultural heritage and a lot of party.
The town of Pag reflects its cultural heritage with narrow, white-stoned medieval streets winding beneath a 15th-century Gothic cathedral.
Linked to the mainland by a road bridge, the islands Novalja resort town and Zrće beach, are Croatia's biggest club hubs.
Things to do on Pag
Besides fabulous summer parties and music festivals, visitors to the island can savour local seafood and delicious roast lamb.
When not soaking up the sun, walk the old town, book a dairy tour with cheese-tasting and visit the farm shop at Gligora.
Dugi Otok Island
The long and narrow island of Dugi Otok is characterised by mesmerising cliffs and beautiful sandy beaches.
With little traffic, people and noise, the island can be reached by ferry, catamaran or you can get there by speed boat from the mainland.
Things to do on Dugi Otok
Whether embarking on a one-day excursion or staying a few days, the island has more to offer than its sleepy fishing villages.
Some of the most magnificent beaches and spectacular scenery make up this islandic haven where energetic visitors can trek, cycle, scuba dive and climb.
Alternatively laze around, soak up the sun and enjoy local cuisine from authentic surrounding restaurants.
Vis Island
Croatia's most distant island is visited mainly by yachters, who not only land up in Vis Town to feast on fresh seafood but to enjoy the islandic dreamy haven of Mediterranean paradise and to see the magnificent blue cave of Biševo.
Until 1989 the island served as the Yugoslav National Army's base, out of bounds to foreign visitors.
Relative isolation has kept commercialism at bay making for an air of unspoilt beauty.
Things to do on Vis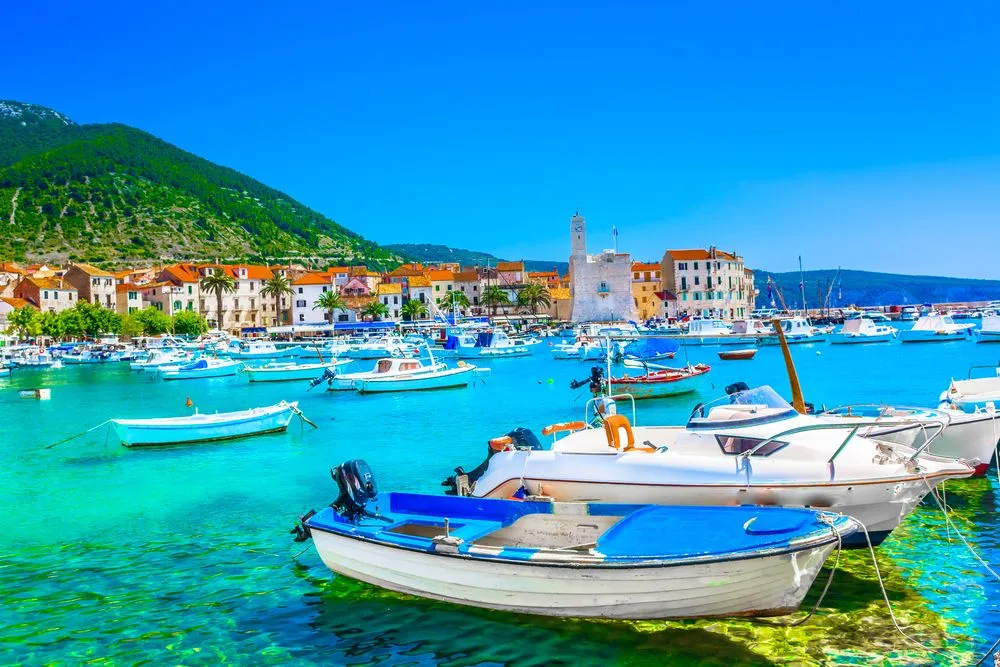 Visit the remarkable bright blue waterlogged sea cave of Biševo and soak up the sun on one of several beachy enclaves along the coastline.
Explore the island by taking a guided hiking tour and savour local organic produce at the island's many tiny family restaurants.
Rab Island
The small island of Rab is 22 km of tranquillity and stunning beach.
The lively town is known for its unmistakable clusters of terracotta roofs, cream walls and soaring church towers.
Things to do on Rab
Life here is unassumingly rustic and to be enjoyed at a leisurely pace.
Get swept up in the summer festivities as the island turns into a feverish party atmosphere of festivals.
Also be sure to try Rapska torta, an almond cake unique to the island.
Korčula Island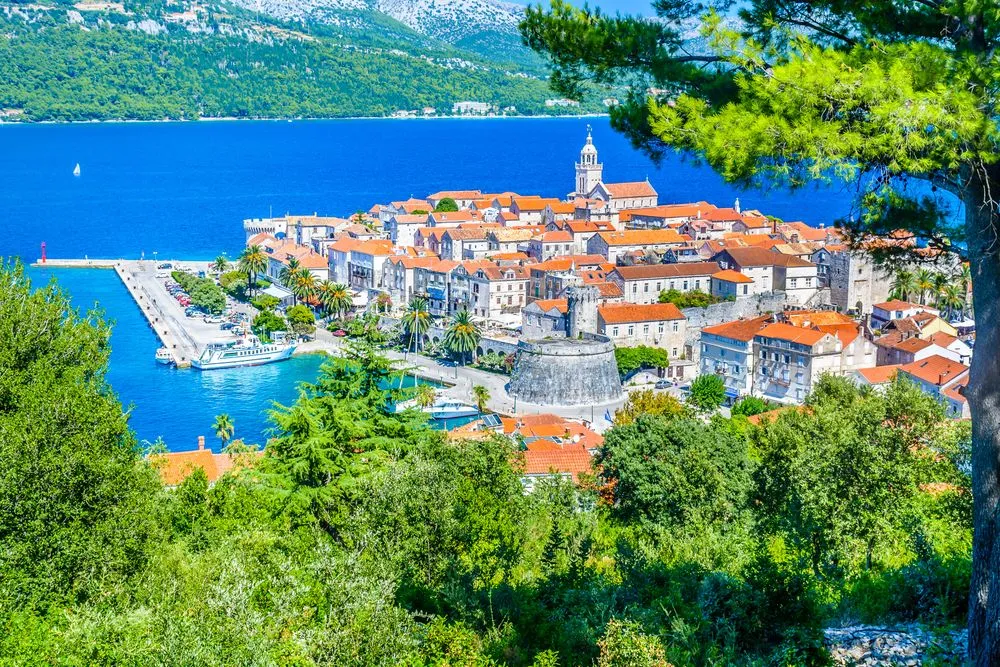 Home to the famous Marco Polo, and often dubbed 'Little Dubrovnik', Korčula sits on a medieval-walled peninsula, lined with stone stairways, and a Gothic-Renaissance cathedral.
The island is known for its enchanting forests and white wine from local vineyards.
Things to do on Korčula
Head into the hills amongst pine woods, vineyards and olive groves to savour island specialities made from home produce.
Watch an intriguing performance of the moreška sword dance and for the adventurist, exploring the Korčula archipelago by sea kayak is a breath-taking excursion.
Mljet Island
With its expansive variety of sea-life and unspoilt landscapes the World Wide Fund for Nature has named Mljet among the last paradises in the Mediterranean.
The island is home to Mljet National Park, where two turquoise saltwater lakes set amid dense woodlands, draw visitors to enjoy the cool waters and magnificent scenery.
Things to do on Mljet
Just 80 minutes from Dubrovnik by catamaran, visitors can bike around the lakes, hike upward trails for magnificent views of pines cascading down to sparkling ocean waters or take a boat ride to a tiny islet, lake centre, to visit a 12th-century Benedictine monastery.
Whether you are day-tripping from the mainland by ferry or catamaran; or partying it up island-style for a week, the diverse offering of the Adriatic islands of Croatia are certainly bucket-list worthy.
Wine, cheese, water-sports and cocktails along crystal blue ocean waters… the islands await!