Located on the Balkan Peninsula, Croatia is framed by many wonders, like the Adriatic, Ionian, Aegean, Black, and Mediterranean seas and Balkan Mountains.
Because of this perfect positioning, Croatia is filled with natural beauty that astounds visitors at every turn.
The sun lights the land differently in Croatia, especially around a place called Rastoke and the phenomenal Plitvice Lakes.
If you are ready to discover a land that shimmers with magic and intrigue, then it is time to visit Rastoke and Plitvice Lakes National Park.
About Rastoke, Croatia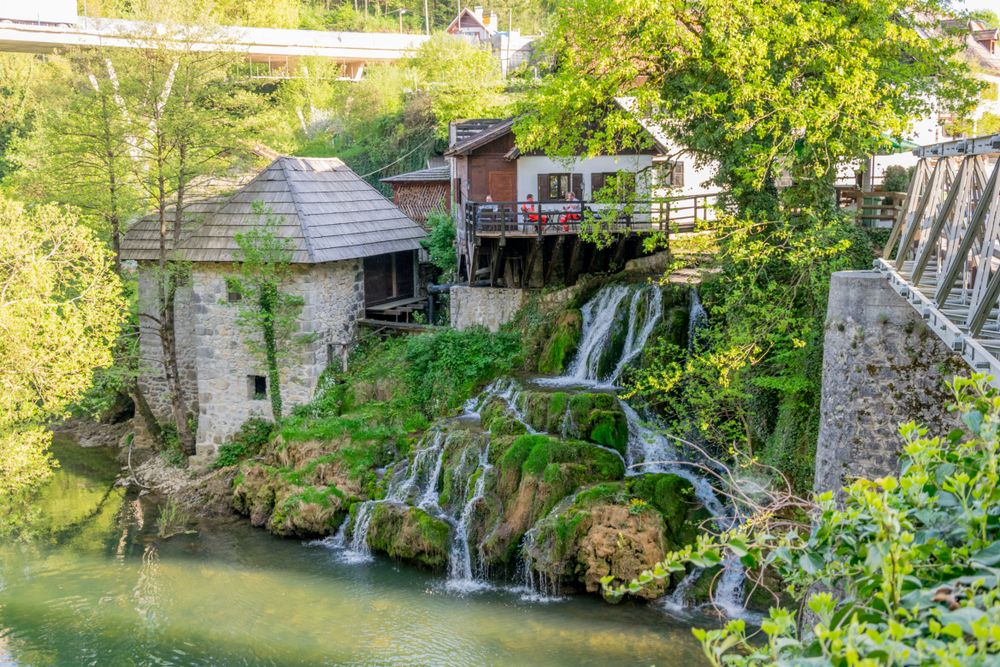 Just an hour and a half outside of the historical Zagreb, within the Kordun region is the rustic community known as Rastoke.
For those who wish to see more than the Dalmatian Islands and the Croatian capital, Rastoke is an ideal destination.
History and nature lovers will find an equal amount of activities to enjoy, including visiting the 15th century castle in Slunj, a nearby town, or kayaking, paintball, off-roading, horseback riding, and fishing.
Once you have had a fun-filled day checking out the sylvan paths and admiring the criss-cross of rivers around Rastoke and Slunj, you can walk amongst the streets for a glimpse into the Middle Ages.
There's wood-shingled homes and the Pod rastockim krovom, a family-owned and operated estate with a gift stop inside and conference rooms.
There are also 22 flour mills at the peak of the town.
You can enter a couple of them to find exhibits similar to an open-air museum that depicts what life was like when the mills were still brand new.
About Plitvice Lakes National Park

In and around Plitvice Lakes National Park, a UNESCO World Heritage Site and one of the oldest national parks in all of Southeast Europe, you will find a storybook setting.
Within this national park are 16 turquoise coloured lakes, 129 vibrant species of birds, and limitless opportunities for hiking, biking, rock climbing, cave diving, and more.
In fact, Plitvice Lakes is so breathtakingly beautiful, you might think you have wandered into the Elvish city of Rivendell, from The Lord of the Rings.
Also scattered throughout the park are a number of ruins that had rose and fell throughout the course of history, so keep your eyes open for fairies amongst the wildlife.
As you venture through the park, you will come across a number of paths leading to bridges that span the crystalline lakes and limestone canyons dabbled with winding caves.
There's a number of majestic rock formations, blanketed with bright green vegetation.
Be sure to keep your eyes open for a feature called "travertine barriers." The origin of these structures is unknown, but there are a number of them throughout Croatia, thanks to the abundance of limestone in the country.
Do keep in mind that the travertine barriers are very fragile, so swimming in the lakes with these formations is forbidden.
Next, head to the tallest waterfall in all of Croatia, the renowned Veliki Slap (which translates to "Big Waterfall'), which as a roaring drop of 78 meters.
Throughout August to October, the steep climb to the top of the waterfall becomes a prime location for wedding photographs, because the sweeping views are truly jaw-dropping and surreal.
Since 1968, when the first wedding by the Plitvice Lakes was held, more than 300 couples from over 20 countries have come to Plitvice Lakes National Lake for their ceremony.
Don't be surprised if you happen to stumble upon a wedding or two while you're here!
Getting Around Rastoke and the Plitvice Lakes
As mentioned earlier, Rastoke is about an hour and a half to two hours away from Zagreb
If you plan on travelling from Zagreb to Zadar on the coast, then Plitvice Lakes National Park is a decent halfway point to make a pit-stop and explore.
The park is open year round, but the longest hours of operation happen in the summertime.
Acting as a contribution towards upkeep and environmental protection is a small entrance fee that changes depending on the seasons.
From January to March and again in November through December, the cost is 55 kuna.
For April to June and September to October, it's 110 kuna.
Lastly, for the summer months of July and August, the cost for an adult entrance fee is 180 kuna.
Children aged 7 to 18 have much cheaper entrance fees, and any child younger than 7 years enters for free.
Upon arrival, you can choose Entrance 1, which takes you to the lower lakes, or Entrance 2, which accesses the lakes higher up.
You can also pre-book a 4-hour tour in English, French, Spanish, Italian, German, or Croatian for an additional cost—but if you want to learn all about the forts, rock formations, and nature, it's worth it.
There's six hiking trails, named according to the alphabet.
The longest trail is K, which takes 6-8 hours and loops around the entire park.
Food and Drink Recommendations
We highly recommend that you take every chance you have to sample Croatian food.
When visiting Rastoke and the Plitvice Lakes, you will find a number of small yet homely taverns that serve a famous Croatian dish called licke pole.
The simple dish uses locally grown Lika potatoes, onions, ajvar relish, bacon, and cow cheese.
It's the perfect snack to refuel after a long day of hiking the Plitvice Lakes National Park.
Another highly rated meal would be grilled trout, which you can find at one of the many riverside restaurants.
Also while in Rastoke, you should try the local Velebitsko beer, which is brewed in the nearby Velebit mountains.
If you are looking for magic here on Earth, then you should definitely visit Rastoke and Plitvice Lakes National Park.
The breathtaking scenery is straight from a fantasy, and the unbridled nature is refreshing, invigorating, and a true testament to what Croatia has to offer
Who knows, you might just find yourself transported to a hidden Elvish city when you visit.