Croatia is a destination that has burst onto the tourist scene. Attracting more visitors than ever before, tourists from all over the globe are falling for its golden beaches, historic cities, and spectacular national parks.
If you're interested in visiting Croatia, you'll be spoiled for choice when it comes to putting an itinerary together. Here are just some of the reasons Croatia will take your breath away.
Croatia highlights: where to go and what to see
Dubrovnik Holidays
Dubrovnik is Croatia's most popular city break destination, and it has emerged as a major player in the travel bucket list stakes in the last few years.
Dubrovnik is one of the most aesthetically-pleasing cities you're likely to have the pleasure of exploring. Flanked by brilliant blue waters, its golden rock buildings topped with traditional tile roofs are a sight to behold.
Meander through cobbled streets, stroll along the cosmopolitan promenades and take time to see the historic sights. The Old Town is stunningly beautiful, and a leisurely walk along the Dubrovnik city walls comes highly recommended.
You'll find quaint shops and cafes and breathtaking examples of Baroque architecture on your travels.
The city was badly damaged by shelling in 1991, but it has been sympathetically restored, and you'd never know that the beautiful limestone streets and striking buildings were once reduced to rubble.
You can while away hours walking through the city and watching the boats come in at the harbour, but there is a plethora of attractions to keep you busy if you fancy filling your itinerary. Highlights include the city walls and forts, the War Photo Limited gallery and Rector's Palace.
It's also worth heading out to the island of Lokrum, where you can swim, kayak and sunbathe. From Dubrovnik, you can travel around Croatia and its islands. There are frequent bus connections and ferry trips available.
Split
The historic city of Split enjoys an enviable location on the Dalmatian Coast. Croatia's second largest city is an ideal base for a city break or an extended holiday in Croatia.
The city is easy to reach from Zadar and Dubrovnik, and it's ideally located for exploring the beautiful islands of Hvar, Korcula, and Brac.
Split is often a stop-off point, but it's well worth spending a few days here, as there's plenty to see and do. The most spectacular sight is undoubtedly Diocletian's Palace.
This ancient Roman monument is a Unesco World Heritage Site, and it is one of the best examples of Roman artefacts in the world. The palace dates back to the reign of Emperor Diocletian in the late 3rd century, and it occupies around half of Split's iconic Old Town.
The palace is a must for tourists. It's best to arrive early to beat the queues.
Once you've ticked the palace off your list, visit the Cathedral of St Dominus before taking a hike down to the water's edge where you'll find the Riva, a waterfront stretch packed with charming cafes, trendy bars and traditional restaurants.
Nearby Salona and Trogir are well worth a visit if you have a day spare. You can catch local buses, which run frequently.
Plitvice Lakes National Park
Croatia's first official national park, Plitvice Lakes National Park is a natural wonder that will take your breath away.
A Unesco World Heritage site, this is Croatia's most popular tourist attraction, and it's not hard to see why. An intricate maze of lakes connected by streams and waterfalls, this is a spectacle that is guaranteed to enchant every visitor.
There are sixteen lakes in total, and the waterways are set deep in the heart of glades and woodland. The park covers more than 300 square kilometres and it's home to myriad species, including deer, wolves, boar and even bears. The geography of the park is fascinating and the terrain undulates.
The highest point lies at over 1,280 metres above sea level.
The park is open all year-round, and it tends to be busiest during the peak tourism season in the summer.
Spring is a wonderful time to visit, as there are fewer people around and the forests are lush. You can hire a car and drive to the lakes, but many people choose to book an organised coach tour.
Zadar
Zadar is widely regarded as Croatia's oldest city. It boasts both Roman and Venetian ruins, and it's located on a peninsula, providing easy access to some beautiful beaches. The older parts of town are laden with historic churches and museums, while the newer parts are famed for their vibrant nightlife.
Zadar may not be as visually enticing as Split or Dubrovnik, but it's definitely worthy of your time. The most popular attractions include the Church of St Donatus, Zadar Cathedral, the Sea Organ and the Monument to the Sun.
Krka National Park
Located on the Krka River, the Krka National Park is one of Croatia's most precious gems.
Tourists flock to the area to see the famous waterfalls. The park covers approximately 65% of the river's length, and the best way to explore is by taking a boat trip, which is included in the entrance fee.
As you float along the water, you'll see the incredible beauty surrounding you, with lush tree canopies and thundering torrents of water.
The highlight is Skradinski Buk Falls, but there are plenty of other sights to marvel at, including Visovac Island and Roski Slap Falls. The walkways can be a little uneven and rocky, so bring some trainers or walking shoes, and don't forget your swimming gear. It is possible to swim in some of the pools.
It's easy to reach the falls from Dubrovnik, Split, Zadar, and Zagreb. You can use public transport, hire a car and drive yourself or join an organised tour.
The park is open throughout the year and you can book tickets online. As well as looking at the falls and plunge pools, it's wise to keep your eyes peeled for birds. There are over 200 different bird species within the park.
Island hopping

Mainland Croatia is impressive and enthralling, but many visitors fall in love with the islands that are tucked away off the coastline.
Nestled in crystal clear waters, the Croatian islands provide an idyllic base for a chilled-out holiday or a relaxing day trip. Croatia boasts a stunning array of islands, but if you haven't got time to go Croatia island hopping, here are some you might not want to miss:
Hvar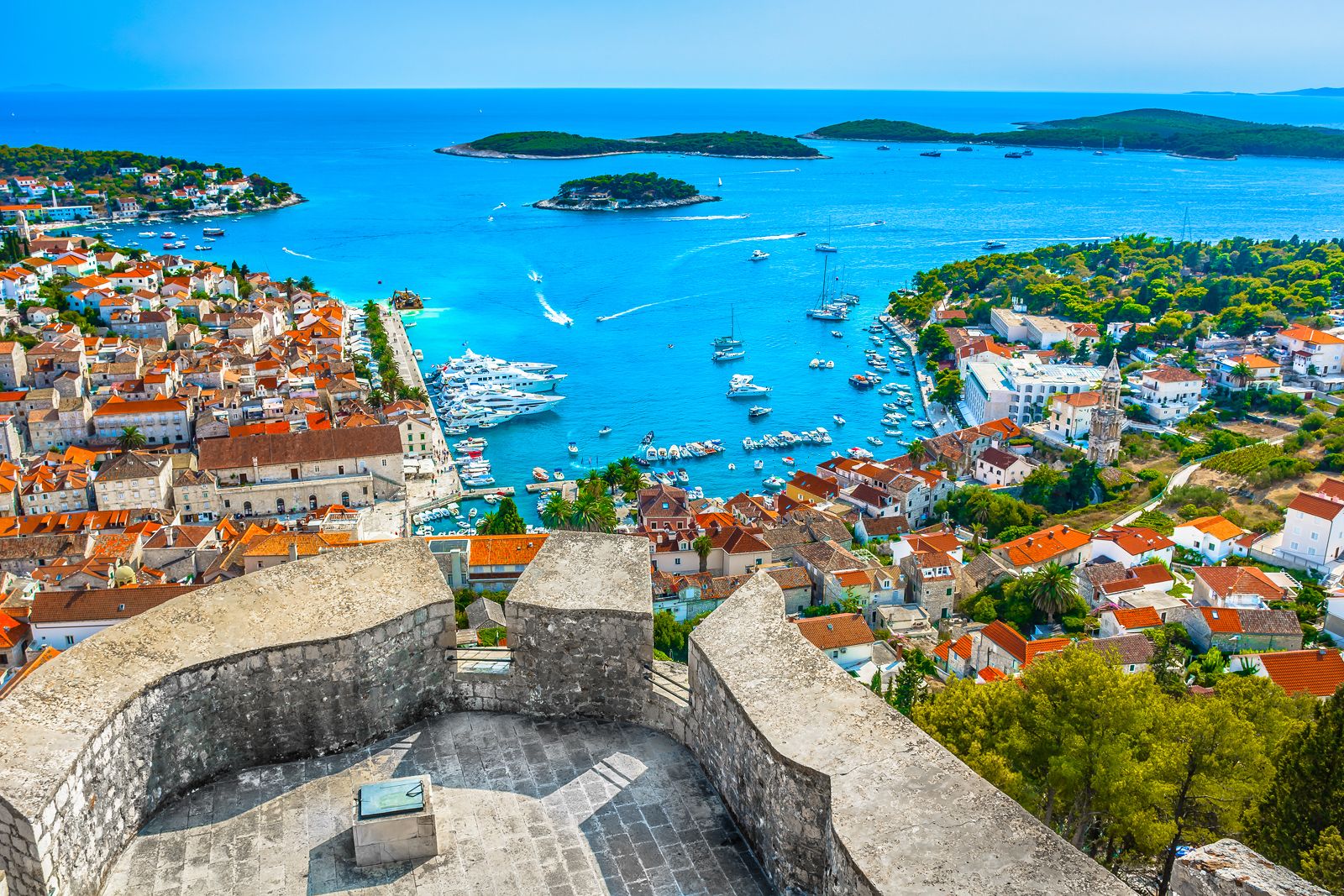 Known as a party island, the exclusive, trendy island of Hvar is the place to be seen.
Hvar is located around 25 miles from Split and its famed for its pretty fields packed with lavender and olive groves, as well as its impressive collection of clubs and bars. By day, the town is bustling and charming, but it really comes alive at night.
This is a great choice for those who want to dance the night away and let their hair down in a truly beautiful setting.
Krk
Krk is a historical gem, which is home to ancient buildings and rustic villages. The Baska tablet, one of Croatia's most famous monuments, dates back to the year 1100 and the Romanesque cathedral is well worth a visit.
The hills surrounding Baska are ideal for those who enjoy hiking and the local wine made from the Zlahtina grape has an excellent reputation.
Pag
Pag has established itself as a major party destination and it plays host to the increasingly popular annual Hideout Festival.
Brac
If you're an active adventurer, Brac is an ideal choice for you. Here, you can try all kinds of water sports, as well as kite surfing, hiking, and swimming. Brac is home to Croatia's most famous beach, Zlatni rat, which translates as the 'golden cape.'
This is a breathtaking spot to soak up the sun and chill out. For the best views of the island, make your way to the highest spot, Vidova Gora.
Korcula
The birthplace of Marco Polo, the island of Korcula is a bustling haven, which is accessible from Split and Dubrovnik. The medieval town is always buzzing, the architecture is a joy to behold and the waters of the Adriatic are impossibly blue. Korcula is famed for its wines and its beaches.
Meander through the narrow streets, sample the local produce and top up your tan.
It's possible to travel to the islands from Split and Dubrovnik.
There are various ferry operators and you can sometimes check timetables and book online in advance. Some islands are easier to visit than others and the frequency of ferries varies according to the time of year. Summer is the busiest period.
If you're thinking of visiting Croatia, you won't be disappointed. From ancient cities and pristine beaches to historical monuments and picture postcard islands, there's something for everyone.
Whether you're looking for a chic base for a city break, you plan to go island hopping or you're keen to combine sightseeing with sunbathing, Croatia will take your breath away.