With unending coastlines, glorious beaches, enchanting history and magnificent inland parks, deciding where to tour in northern Croatia can be overwhelming.
Here are our top 9 places to visit in northern Croatia.
1. Opatija
Known as the oldest tourist destination in Croatia, Opatija was regarded a famous luxury villa retreat for the European elite in the 19th century.
With beautiful gardens and plenty of beaches, Opatija's Lungomare Promenade is also home to Croatia's very own Walk of Fame.
The local Croatian spin-off of Hollywood's Walk of Fame honours prominent names in Croatia who have made outstanding contributions in the fields of science, culture, art or sport such as the tennis player Goran Ivanišević and inventor Nikola Tesla.
Besides luxurious beach relaxation, here you can explore historical sites dating back to the 15th century and get your picture alongside the renowned "Girl with a Seagull" statue.
2. Rovinj
The old town of Rovinj, which was once an island, is now connected to the mainland as one of Istria's best attractions.
With 14 islands concluding the Rovinj archipelago there are plenty of opportunities to escape the bustling summer mayhem during high season, when the charming town is flooded with tourists.
Besides its superb coastline and enchanting cobbled streets, the town's main attractions include the Church of St Euphemia with its 61m-high bell tower, Rovinj City Museum, Balbi Arch and the Batana Ecomuseum.
The Golden Cape Forest Park can be easily reached on foot or bike and is covered in lush oak and pine groves where one can swim off the rocks in the nestled bays.
3. Pula
Pula, a seafront city on the tip of Croatia's Istrian Peninsula, is known for its protected harbour, beach-lined coast and Roman ruins.
Pula's historic masterpiece is the large Roman amphitheatre which was built between 27 BC and 68 AD.
Created to hold 20,000 spectators, it is the only Roman amphitheatre in the world with a complete circle wall and is still used to host events today.
Other Roman remnants to see include the Pula Museum of Archaeology housed in the Temple of Augustus, the Arch of Sergii and the Pula Castle.
Visit during summer for a host of festivals from international concerts to plays and outdoor films held in the magnificent Arena, Austro–Hungarian Kastel, and in the Forum.
Just to the north of the city lies the Brijuni National Park, constituted of densely wooded islands.
Not only is it a great site for crystal seas and glorious beaches but you can discover Roman villas, a Knights Templar church and ancient dinosaur footprints.
4. Cres Island
Sail your way to Cres island. Dating back to the 15th and 16th centuries with a past of Venetian rule, Cres Town is reflective of a charming Italian village.
Be mesmerised by the town walls, Venetian Tower, Church of St Mary and Arsan Palace, which houses Cres Museum displaying historic local costumes, and weapons.
Take a tour to the north of the island, where Beli is home to a colony of Eurasian Griffon vultures.
Here there are also beautiful hiking trails through the Tramuntana forest.
Valun village on Cres Island is known for the Valun Tablet from the 11th century, inscribed in both Latin and old Croatian.
With plenty of historic and cultural discoveries, the beautiful island with its choice of shimmering beaches is the perfect spot for a relaxed getaway.
5. Rab Island
Even though Rab island is comparatively small, it is definitely worth a visit with its age-old palaces, churches and a long history dating back to 360 BC.
This is your perfect opportunity to soak in the sunny beach atmosphere, swim in the clear waters of the Adriatic and try out tantalising local cuisine.
Rab comprises a variety of cliff-lined and sandy beaches spanning 22 km.
The town is also known for its unmistakable clusters of terracotta roofs, romantic cobbled streets, soaring church towers and wealth of historical sites with numerous Gothic and Renaissance palaces.
6. Pag Island
The thin, yet long rocky desert island of Pag is home to two fishing villages, a bit of cultural heritage and a lot of places to party.
The town of Pag reflects its cultural heritage with narrow, white-stoned medieval streets winding beneath a 15th-century Gothic cathedral.
Linked to the mainland by a road bridge, the islands Novalja resort town and Zrće beach, are Croatia's biggest club hubs.
Besides fabulous summer parties and music festivals, visitors to the island can savour local seafood and delicious roast lamb.
When not soaking up the sun, walk the old town, book a dairy tour with cheese-tasting and visit the farm shop at Gligora.
7. Zagreb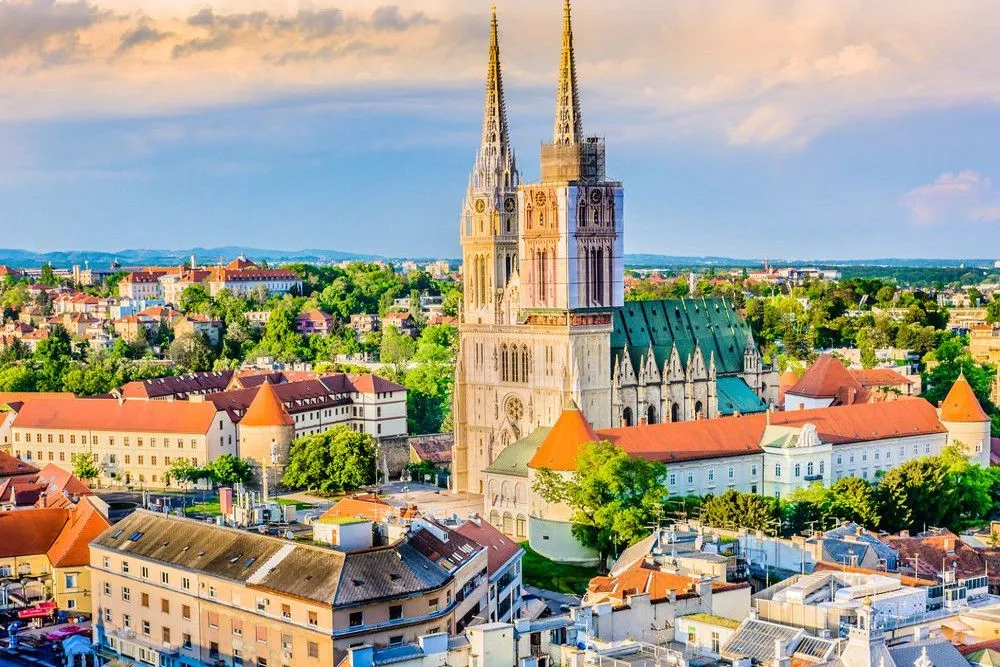 Whether your interest is cultural, architectural, historical, religious or social, Zagreb boasts a wealth of overlooked masterpieces and experiences for tourists.
St Marks Church in Zagreb is a great place to experience the vibrant essence of this city and Croatia's proud national heritage with its colourful design and intriguing sculptures.
While you are there, make sure you also visit the Zagreb City Museum, Tunnel Gric, Museum of Broken Relationships and stop for lunch and drinks along Ulica Ivana Tkalčića.
8. Krk Island
Joined to the mainland by a striking bridge, Krk is one of Croatia's busiest islands well known for water sporting holidays including parasailing and wake boarding.
The island has a rich and diverse history steeped in eras of Roman and Italian rule.
Its heritage comes to life with sites of Romanesque churches, walled monasteries, vineyards and quaint fishing villages.
The Frankopan castle is probably Krk's biggest attraction, named after the Medieval noble family of Frankopan who ruled this area.
Adventurists can walk or cycle the farmlands and explore the underground caverns of the Biserujka Cave.
Sample local white wine in the hill village of Vrbnik and soak up the sun at Baška beach.
Being close to Zagreb, it's easy to get to and definitely worth a visit!
9. Lim Bay (Limski Kanal)
The Lim bay and valley lie north of Rovinj, boasting spectacular turquoise waters, green hillsides and ragged cliffs.
This magnificent area can be explored taking walks, hiking, biking or by a boat tour down the channel.
Dolphins are sometimes spotted near the coast.
On the north end there are great climbing slopes and many caves.
The estuary is rich in fish, quality oysters and mussels.
Fish and shellfish farms lie along the protected 11-kilometre-long Lim Channel due to the unique water quality and composition.
Naturally there are some great local seafood restaurants to relish while in the area.
Looking for a Croatia itinerary brimming with gastronomic delights, historical charm, exciting nightlife, natural wonders and brilliant beaches?
Our experts are ready to help you plan your next summer holiday in Northern Croatia with accommodation, airport and catamaran transfers, as well as selected guided tours all taken care of.
See you at the beach in Northern Croatia!